Preparing Our Children for the Era Of AI
ES Education
ES Education by FSVISION Technology, leveraging its world-leading Al technologiEs and experiences across multiple industries, ES Esvision is committed to developing Al education programs for K1-K12, vocational and professionals to nurture new talents for the future.
Easy to use and affordab e hardware. Cusiomized Soluions for Schools. Medular and industr al electronics Learning plaiform ior Al, Pvthon C/C++, IOT
A One-stop So ution fog Education
Hardware
Sortware
Storage Solutions
Curriculum System
Training
Competitions
Learning Continuum
At ES Education, we understand that every educational level requires different skill sets that need to be nurtured, continually contributing to take a student to the next level of their growth path. Our solutions are interconnected, creating a continuum path of learning which takes them from their very first steps into the world of all the way to becoming master creators of their own ideas. Our solutions are not limited to the role of the learner, but also include the necessary support for the educator to guide the learning process. Activities and lesson plans accompany our soft and hardware, which are also complemented by training and workshops, delivered by our expert educational partners around the world.
ES Discover
Early Literacy, Mathematics, Logic, Music & Art, Screen-free coding
ES Codey
Coding, Logic, AI, IOT, Data Science, Music & Art Scratch, Python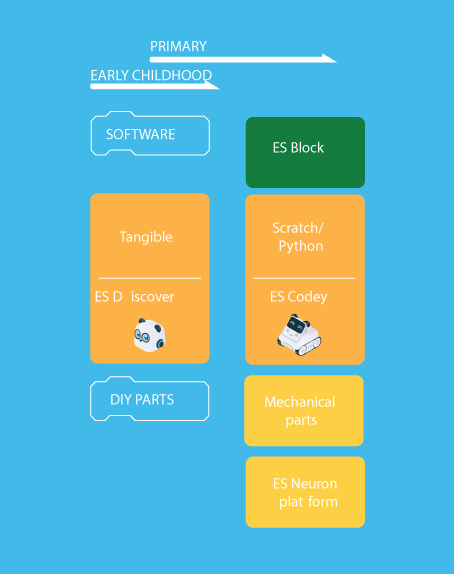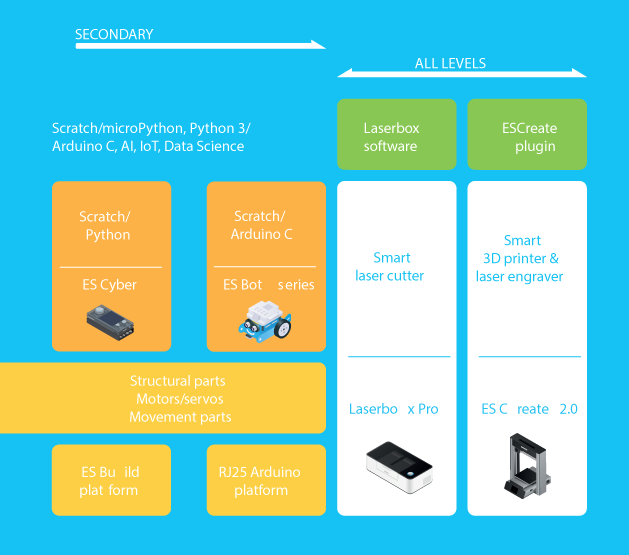 ES Cyber
Coding, AI, IOT, Data Science, Engineering Scratch, Python
Laserbox Pro
Art, Crafting, Engineering Laserbox software
ES Bot series
Coding, AI, Engineering, Robotics Scratch, Arduino C
ES Create 2.0
Art, Crafting, Engineering ESCreate plugin for Cura
Pedagogy
Primary education
Primary education is the first formal step in preparing students for their educational futures. Students acquire key skills including literacy, numeracy, and basic science, while digital, social, and civic skills are also now deemed essential.
ES Education primary school solutions are designed to build students' interest in STEAM topics, cultivating their skills through project-based learning and collaboration, enhancing their analytical problem-solving skills. Computational thinking continues to be a key element for the development of the four key skills: decomposition, pattern recognition, abstraction, and algorithms.
The Coding Companion
ES Codey is the robot that makes learning computer science, technology, and 21st-century skills easy.
Start programming right out of the box – no building required. ES Codey supports block-based and Python programming as well as cutting-edge technologies such as Artificial Intelligence and the Internet of Things.
Computational thinking continues to be a key element, with the integration of the four key skills: decomposition, pattern recognition, abstraction, and algorithms.
Spark Invention
With Smart Building Blocks
ES Neuron is a platform of programmable electronic building blocks for logical creation and intuitive programming. The platform contains over 30 different electronic sensors and actuators.
30+ electronic modules
Compatible with ES Codey
High-quality smart sensors
Programmable modules with preset functions
Input-processing-output scheme
Magnetic design for mounting
Safe and friendly design
Block-based Programming
Designed explicitly to help students understand the key concepts of programming, ES Block allows learners to drag and drop code blocks, making programming as intuitive and straightforward as playing with building blocks.