Mixed Reality For Education
Tradition Practical Training
Difficult to understand the machinery working principle equipments and consumable items are expensive Some projects can be dangerous Single person operation Process cannot recover.
MR Simulation Training
Easy to understand Virtual equiment, no cost, no space and location limit
No comsumable items, save cost Safe and high efficiency
Process can recover, can repeat the process anytime
Multi person collabtation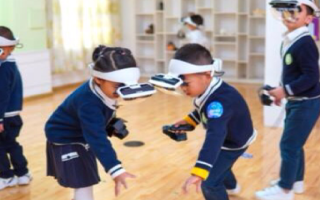 Technology Advantage
Muti-persons collaborative-Interactive operation of multi-person on the same resource in a unified space.
Arbitrary operation in large space Without limiting the operation range.Products can be deployed freely, not limited to fixed operating space.
Large FOV field of view.
Arbitrary placement of model over long distance.
Real time broadcast with Ipad or iphone.
Customized tools.
Foshan Nord MRclassroom
Students can see the evolution of the real ancient dinosaurs and the spectacular view of the vast ocean, at the same time, they can interact with these creatures, so that their sensory experience can be maximized. Through our MR discovery program, the students realized the disassembly and assembly of 1:
1 automobile and aircraft engines for the first time and learned the function and assembly of tiny parts which deeply stimulated their creativity.
Shenzhong Nanshan Innovative School
Guangdomg Collage of Industry And Trade